The EES Europe 2023 (Munich, Germany) opened at the Messe München in Munich, Germany on June 14, 2023. As Europe's largest, most international and most far-reaching exhibition for batteries and energy storage systems, EES Europe 2023 once again gained the attention of experts and outstanding enterprises in the global new energy industry, with its high popularity perfectly embodied at the fair. As an innovative leader in the new energy industry, TOPBAND brought its core products of cells, BMS, EMS and PCS (1C3S), small and medium-sized energy storage systems and new energy vehicles, two and three-wheelers and other related products and solutions to the fair. A continuous stream of visitors had in-depth interaction and communication with the TOPBAND team on site.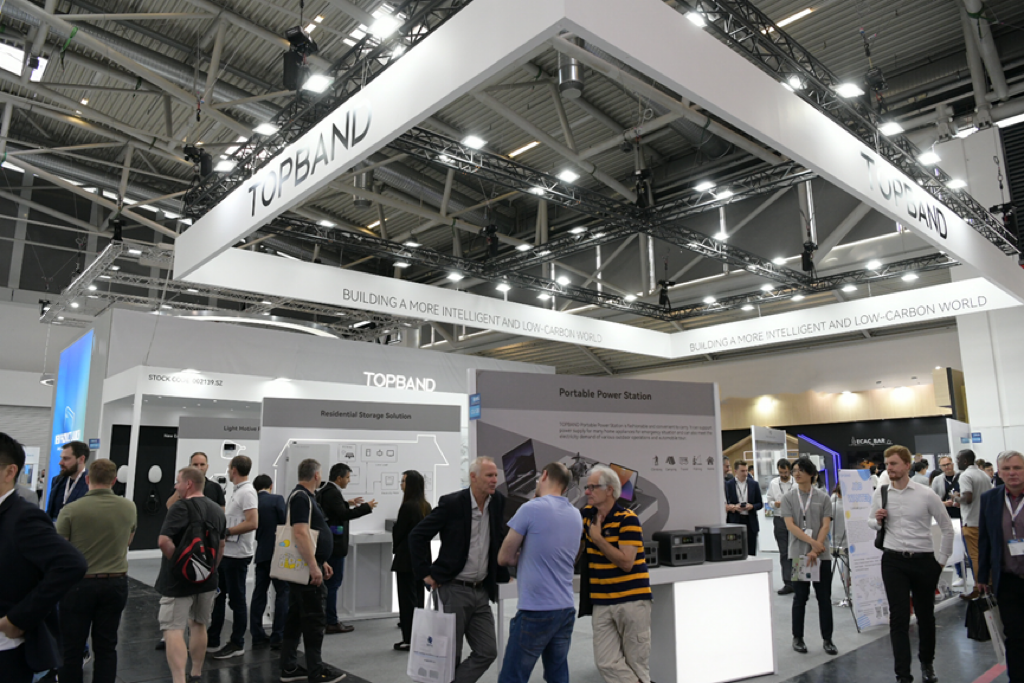 TOPBAND always adheres to the belief that "technology creates value" and has kept making technological breakthroughs and product innovation in the past 27 years. Based on its profound buildup in the field of new energy, TOPBAND held a grand new energy product launch at 14:00 on June 14, 2023 at the fair, including introduction to TOPBAND's new energy business, sodium-ion battery, BMS for industrial and commercial energy storage, and RV, marine, off-grid solution, fully show the strong strength and competitive advantage of TOPBAND in the field of new energy to the professional audience.
TOPBAND launches sodium-ion battery to lead the industry change
First of all, the "TOPBAND sodium-ion battery" was launched. This product can be widely applied to portable energy storage, two-wheelers, low-speed vehicles, power backup for communication devices and other scenarios. It is the best choice with high energy storage and small power cost efficiency. The launch of this product not only marks a major breakthrough in the TOPBAND sodium-ion battery technology, but also shows TOPBAND's leading role in and strategic insight into the new energy industry.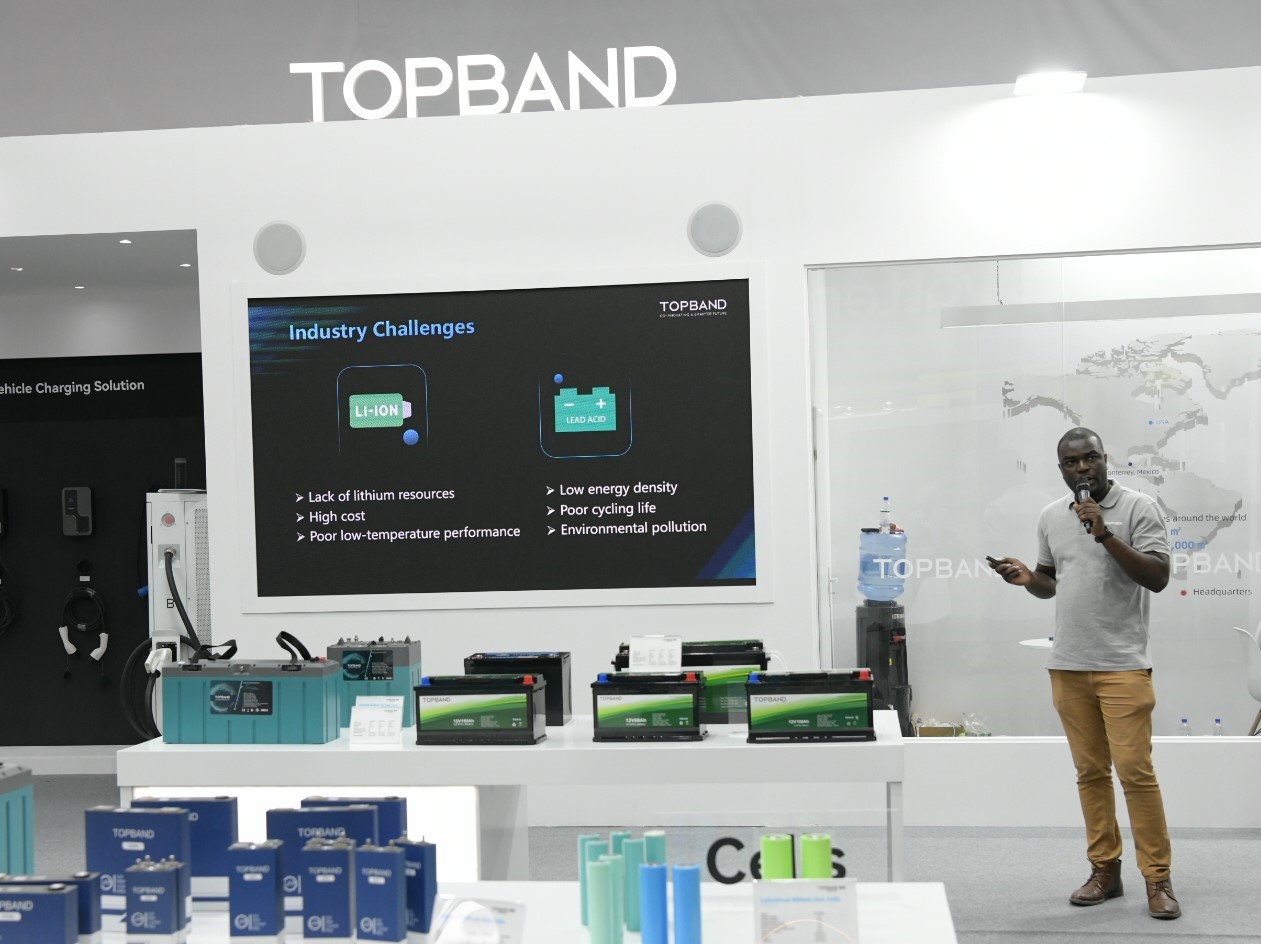 As an emerging rechargeable battery technology, sodium-ion battery has received more and more attention in recent years. The battery demand in the energy storage and small power market is huge, which is expected to reach 487 GWh by 2025.
TOPBAND's sodium-ion battery launched this time has excellent performance. Firstly, it has a nominal capacity of 9.0 Ah, a nominal voltage of 3.0 V, and a voltage range of 1.5-4.0 V. Then, the energy density of TOPBAND's sodium-ion battery can reach 120 Wh/kg, showing excellent range performance. In addition, the service life of the sodium-ion battery can reach more than 2,500 cycles, with slower attenuation of battery capacity and significantly extended battery life.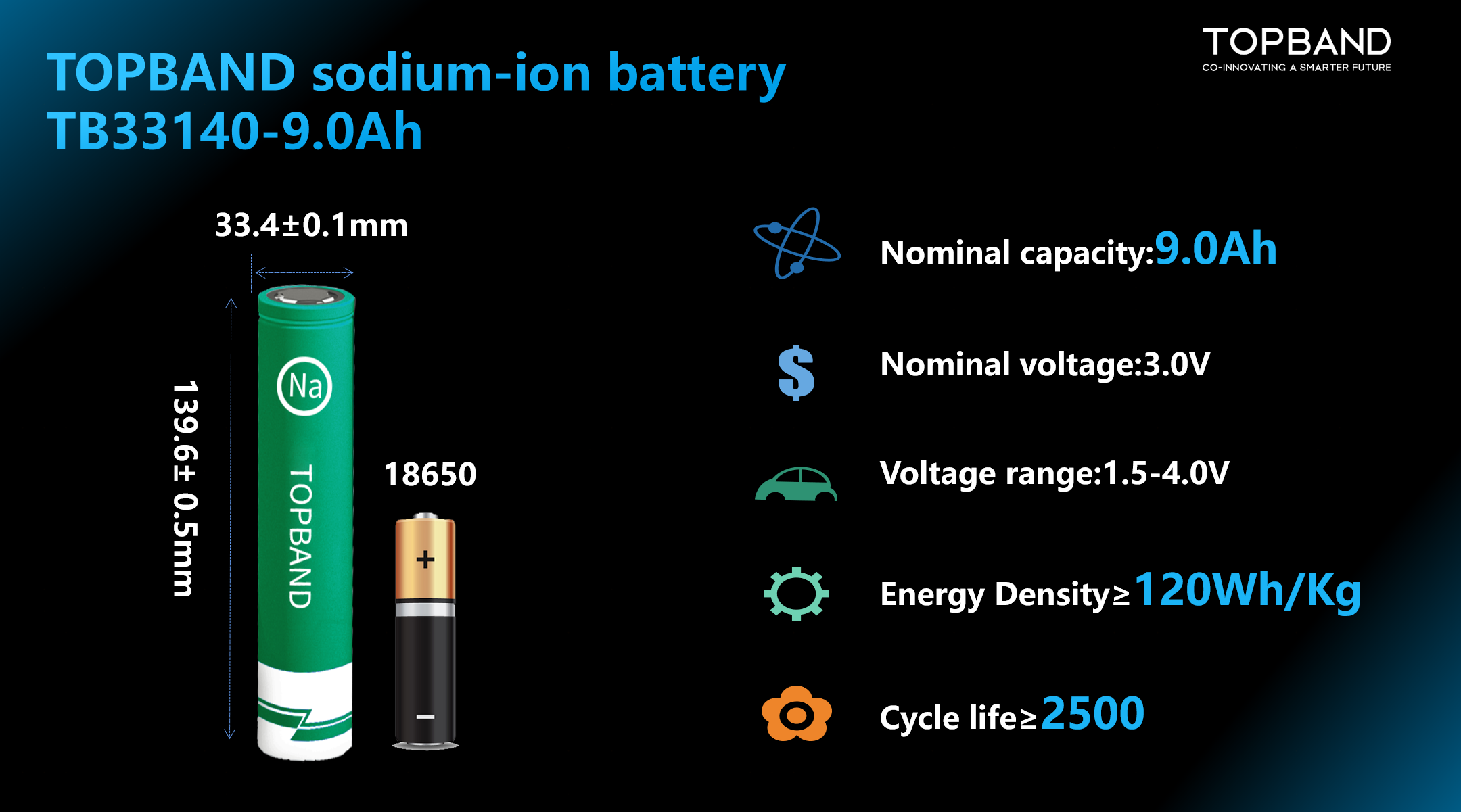 The sodium-ion battery also possesses apparent advantages in features. First of all, it solves some pain points in the traditional lithium-ion battery, such as resource shortage, high cost, and poor low temperature performance, with the total cost of raw materials expected to drop up to 30% compared to lithium batteries. Then, its material system is fully verified, stable and reliable, with excellent discharge performance at low temperature. In addition, its core technology and intellectual property rights perfectly make up the shortcomings of traditional lithium batteries. TOPBAND's sodium-ion battery is poised for take-off and will start global mass production and delivery in Q3 this year.
In the long run, the sodium-ion battery is expected to achieve energy density ≥ 160 Wh/kg and service life ≥ 6,000 cycles by 2025, leading the industry change.
TOPBAND launches BMS for industrial and commercial energy storage to further empower industrial and commercial energy storage scenarios
The second blockbuster is TOPBAND's BMS for industrial and commercial energy storage. This is a new generation of energy storage BMS independently developed by TOPBAND. The BMS is mainly composed of the battery array unit (BAU), the battery control unit (BCU), the battery management unit (BMU) and harnesses. The product features flexible architecture, highly modular system, and high-precision sampling, suitable for industrial parks, power backup, PV energy storage, wind energy storage and other application scenarios. It supports LFP, sodium-ion and other core materials of an energy storage system, making the energy storage system safer, more stable and reliable.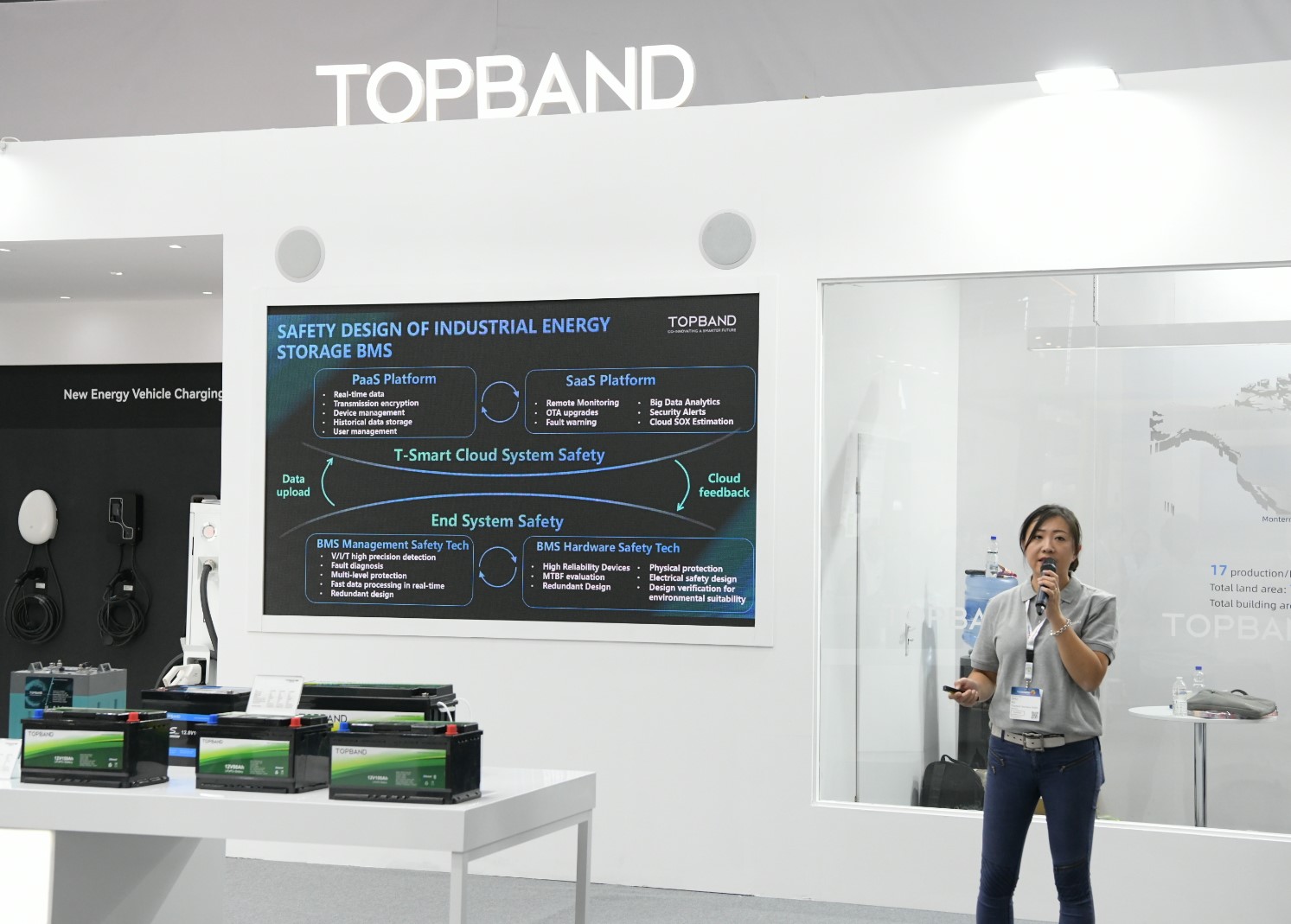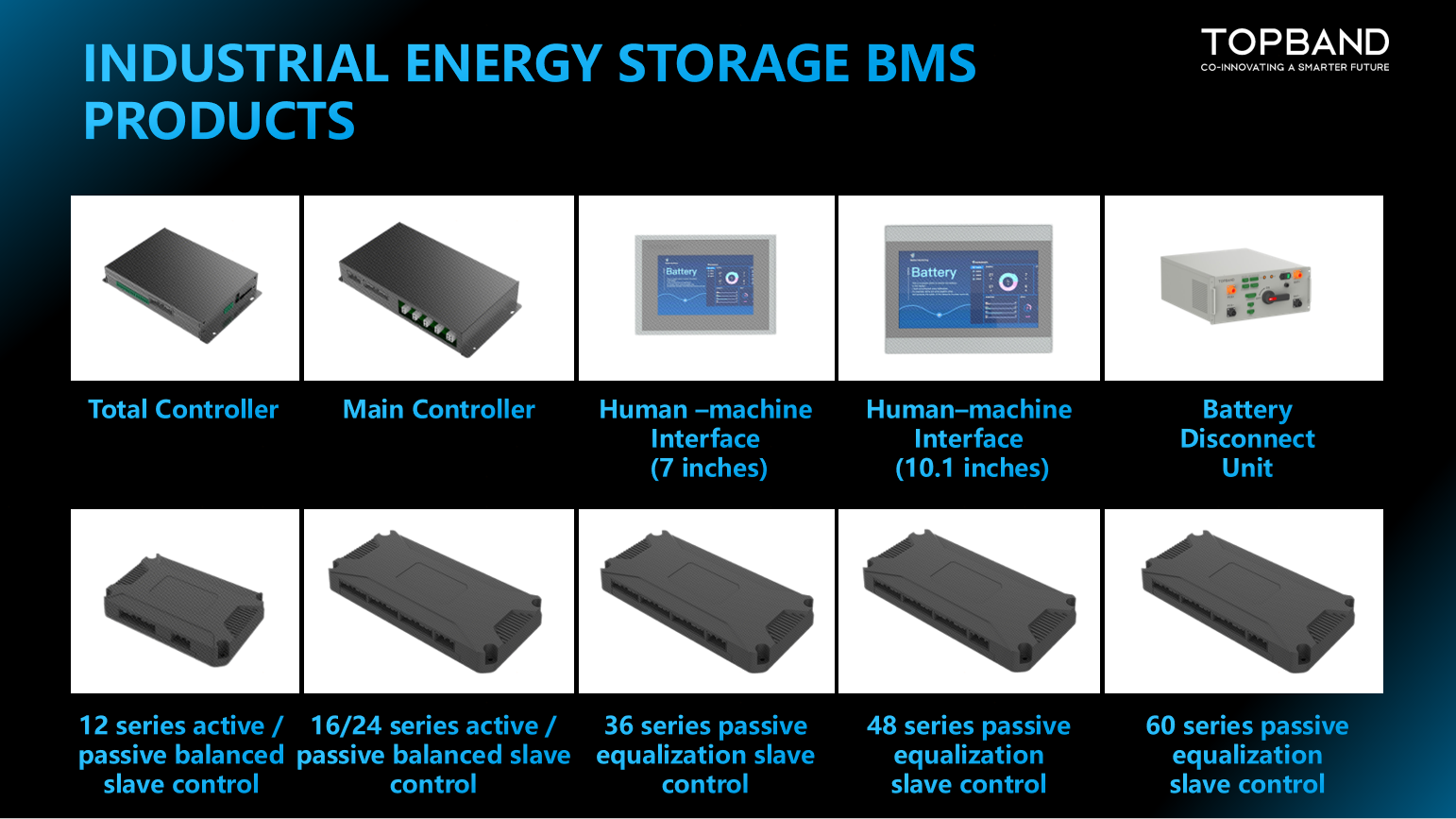 TOPBAND's Industrial and Commercial Energy Storage BMS Series
The BMS can perform not only remote monitoring, OTA upgrade, big data analysis, security warning and other features through the T-smart cloud platform, but also charge and discharge management, active and passive balance management, and thermal management. In addition, this BMS can achieve more accurate and intelligent SOX estimation to extend the service life of the battery.
In terms of safety, TOPBAND's industrial and commercial energy storage BMS relies on highly reliable devices and a full range of physical protection to achieve BMS safety. Based on BMS safety and security management technology, the end system security is achieved, and the security of the T-smart cloud system is achieved combined with Pass and Sass platforms, finally achieve the overall security design. In addition, The BMS for industrial and commercial energy storage adopts a unique two-way active equalization technology, which is estimated to improve the service life by more than 12% and increase the economic benefits of the energy storage system by more than 10% over the full life cycle.
In the future, TOPBAND will continue to make breakthroughs and innovation in safety, reliability and economy of the BMS for industrial and commercial energy storage, providing more high-quality, reliable products and solutions for commercial and industrial energy storage applications.
TOPBAND provides energy storage solution for RV, marine and off-grid to power your travel and leisure time
The third product launched is TOPBAND's RV, marine and off-grid solution. This product can be used in mainstream RV and marine applications, with advantages of high energy density, being easy to expand and so on.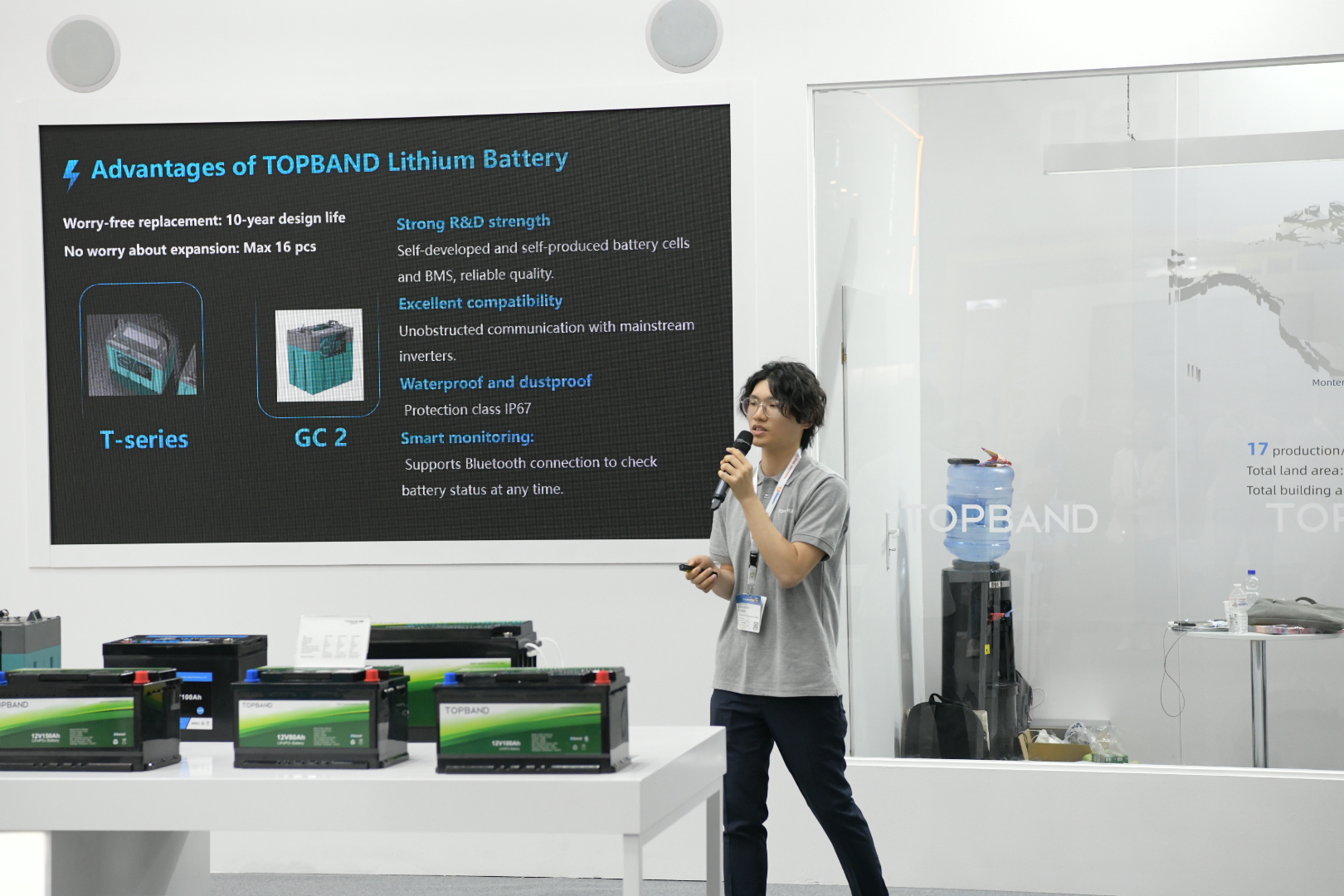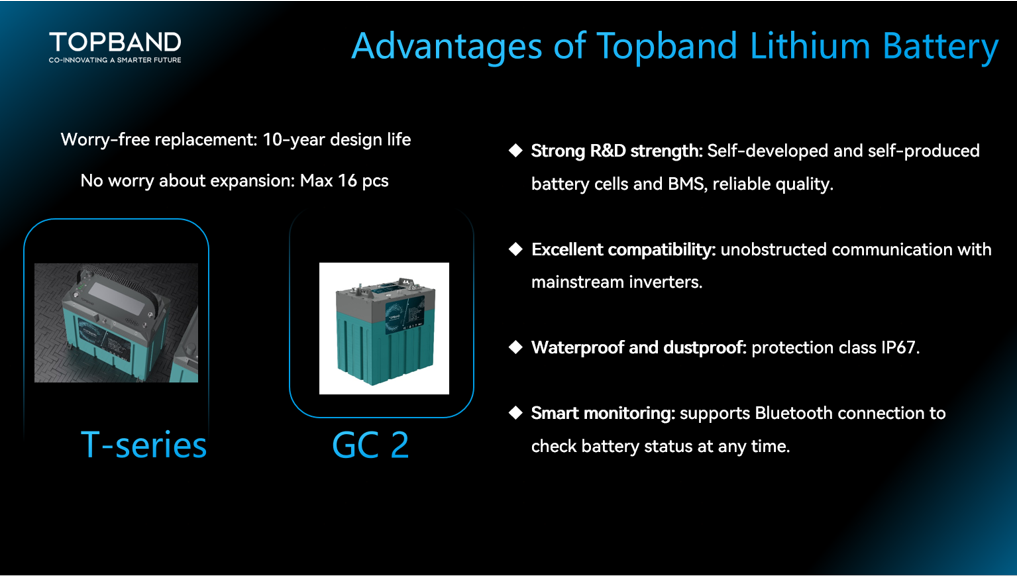 The battery housing is made of ABS material whose fire rating meets UL94-V0, providing good flame retardancy. At the same time, the housing is designed as completely sealed, providing waterproof and dustproof grade of IP67.In addition, a heat sink is provided at the top of the battery, which can effectively reduce the heat generated by BMS operation.
This battery is equipped with both SOC indicator and fault light. The SOC indicator can intuitively display the available capacity remaining in the battery, allowing users to understand the battery's usage. When the battery fails or is abnormal, the fault light will light up to warn the user. At the same time, the battery has good compatibility, and its communication ports can perfectly match mainstream inverters for communication. It also performs well in intelligent monitoring. It can be connected to cell phones via Bluetooth, allowing users to check the battery status at any time. TOPBAND can provide a cloud platform for systematic management of all batteries and for remote management and maintenance, ensuring worry-free travel and leisure time for you.
As an innovative leader in the new energy industry, TOPBAND always upholds the core value of "Agility·Innovation·Partnership" and persists in technology and product innovation. In the future, TOPBAND will continue to make efforts in the new energy field, lead the industry change, and work with customers and partners in the industry to build a more intelligent and low-carbon world!